Double-End Flat Cable and Wire Terminal Crimping Machine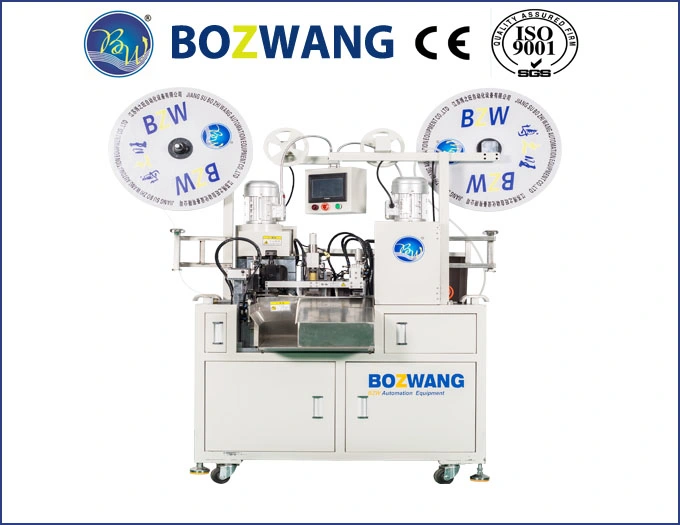 Double-End Flat Cable/Wrie terminal crimping machine:
After two years of research and development, we produced the Double-End Flat Cable Crimping Machine, a revolution in the wire processing industry.It can process two wires at the same time increasing high speed while keeping an excellent performance.This full automatic high technology machine will save hours of valuable time and also increase the working efficiency.
Functions:Pre-feeding, Cutting, Stripping and Single/Double Terminal Crimping.Front and back crimping.Interval Crimping.
Product features:
Wide application range:Mainly used for crimping pH, XH, EH, ZH and color wire communication terminals like SCN, SM, VH and DuPont, among others.
Full automatic:Full automatic production to save the labor cost.The procedures of pre-feeding, cutting, stripping and terminal crimping are full automatic.
Stability:The crimping structure is made of rotary gear and cam so the crimping pressure is so strong that the processed terminals are remain tight.
High Precision:Thanks to the stepping motor used to control the wire cutting and stripping length, the precision could reach to 0.1mm.The imported servo motor controls the movement of the wire, highly precise in crimping the terminals and ensure the conductivity of the wires.
Crimping:Allowed to use various types of terminal crimping.It can also change the crimping direction for the terminals as requested.
Occupied area:Each machine occupies 2m X 2.5.
High Efficiency:Reaching 18000 pieces/hour.It can be operated continuously for 24 hours.
Easy to use:The parameters settings are easy to settle with the integrated touching screen.Only simple training is required to operate several machines at the same time.
Technical parameters:
| | |
| --- | --- |
| Applicable wire | Flat Cables |
| Working capacity | 18000 PCS/H (max.20 P wire row) |
| The maximum width wire displacement | 28 mm |
| The width range of the single wire | 0.8-2.5mm |
| Cutting length | 72-9999mm |
| Cutting precision | ±0.5mm |
| Stripping length on the two ends | 2-10mm |
| Die | Changeable |
| Working pressure | 0.4-0.6 MPaThe air source should be filtered and dried. |
| Voltage | 220V 50Hz |
Rated current:15A
Power:3300W
Outer dimension:1,85m X 0,76m X 1,83m
Weight:527 kg
BW-2TP+N / Double-End Flat Cable Crimping Machine