1KG 300% Container Desiccant Strip Protection of Cargo Shipping with Hooks


TOPCOD container desiccant
Absorb Dry III Container Desiccant
Protect your cargo from moisture damage
Super absorbent capacity,Safety and environmentally,Quick moisture absorption,Quickly control dew point
Introduction:

Topcod's high moisture absorption container desiccant can absorb the moisture up to 300% , can protect transportation security of products by controlling of the dew point to avoid fog rain phenomena.
The unique design ensures that it has excellent moisture absorption performance and the phenomenon of leakage and water dripping does not occur.
There is a hook on the desiccant bag, it can be easily hanged on the cliff of container.
Description:

| | |
| --- | --- |
| Product Name | 1KG 300% Container Desiccant Strip Protection of Cargo Shipping with Hooks |
| Material | Powder Calcium Chloride |
| Weight | 200gX5 |
| Moisture Adsorption | 300% |
| OEM&Samples | Well accepted |
| Packing Material | Tyvek paper + Non-waven fabric+cardboard |
| Package Printing | Topcod standard printing or customized |
| Feature | High moisture absorption,non-toxic,eco-friendly,cost saving |
| Application | Agricultural,wooden,electronic,leather,metal,textile products and so on |
We have advanced packaging materials and sealing technology
Double-layer design to prevent leakage
Inner packaging: Tyvek paper, plastic paper
Outer packaging: non-woven fabric
Hook design and easy to hang


Calcium chloride raw material is used, which is in powder form before absorbing moisture, and in gel form after absorbing moisture to prevent liquid leakage.So we can meet your transportation and storage needs.


Can be used for container drying or cargo storage drying.
Whether you are shipping bulk goods or agricultural products, daily necessities, industrial supplies or clothing in containers, we can choose different types of container desiccants for you according to your actual needs.
Welcome to contact us for consultation!
Absorb DryIII container desiccant:
It does not contain any heavy metal components, meets various standards, meets RoHS and REACH requirements, can be naturally degraded, and will not cause pollution to soil, water and air.

Recommended usage
20GP':10-12 Strips
40GP':12-16 Strips
40HQ':16-18 Strips
For more information, please consult!

For TOPCOD
Why did you choose us?
Why choose us?
1-18 years experience in desiccant industry,including 1500-plus customers as far as 2019. Topcod has already established long-term cooperation with more than 100 well-known enterprises and brands.

There are 1500-plus customers as far as 2019. Topcod has already established long-term cooperation with more than 100 well-known enterprises and brands.

We were established in 2004, and set up branches in Shenzhen, Shunde, and Germany. We are a high-tech enterprise integrating scientific research, production, marketing, technical services, packaging consulting, quality testing, and providing solutions.

2-OEM/ODM available.
3-Eco-friendly.
4-Free sample and fast delivery time
5-SGS, MSDS, REACH, RoHS, DMF free approval. Most importantly, we have silica gel REACH registration.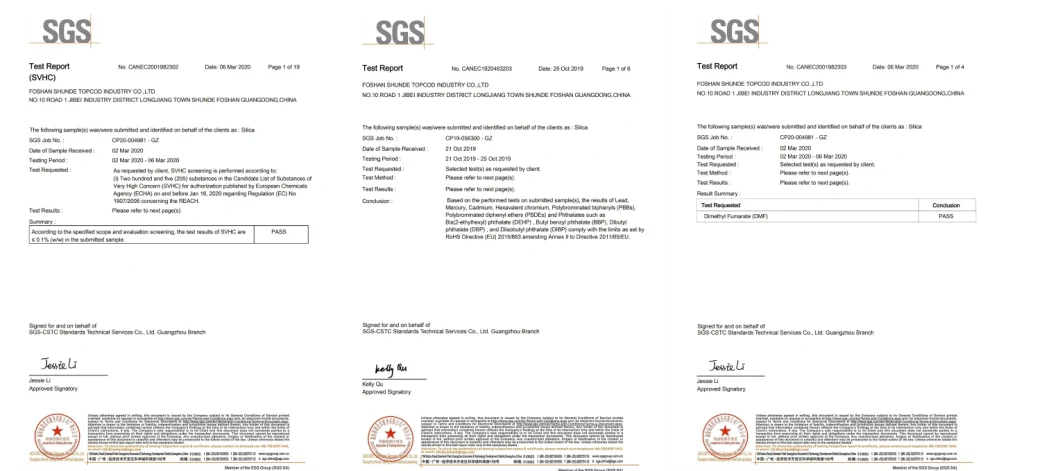 6-Technique research development---Participate in formulating and revising industry standard and national standard about desiccants & oxygen absorber, organizing colloquias with leading enterprises in various industries, providing professional solutions.

7-Independent research and develop wrapping paper of desiccants---Detuch paper(which is eco-friendly, water-proof, dust-proof, smooth, lint-free)
8-Workshop Display - more than 200 desiccants' machines. Foshan, Shanghai, Shenzhen, HongKong, Germany all we have set sales and branch services can satisfy your requirement.

Lab and Workshop display:

TOPCOD always adhere to the belief that,
Only improve and explore the technology,
Can we mrrt customers needs,
Can we keep pace the times,
Can we lead the way in this industry all the time......

Owns advanced mechanized production line
Combines R&D, production and sale together

Other product range:
Industrial desiccant (silica gel desiccant / montmorillonite desiccant / activated clay desiccant);
Food & pharmaceutical grade desiccant;
Deoxidizer (Oxygen scravenger/absorber);
Activated carbon deodorant;
Humidity Indicator Card (HIC);
Esd aluminum foil bag / Vacuum bag / VCI bag / rust proof bag (film);



Product quality meets requirements!!!
Hurry and contact us!