High Quality Single Shaft Shredding Machine For Car Tire RecyclingSingle shaft shredding machine brief introduction:
The DGS General Purpose Single Shaft Shredder has a 457mm diameter profiled rotor made of solid steel, operating ar a speed of 74rpm. The concave ground, aggressive 4-way totating knives are mounted in the grooves of the profiled rotor with special knife holders. This enables a reduction of the cutting gap between the counter knives and the rotor which gurantees a high flow rate, low power consumption and maximum output of shredded material.

The hydraulically operated ram feeds the material automatically in the rotor's cutting chamber by loaded-related controls. The hydraulic system is equipped with high-pressure valves and volumetric flow controls which can be set according to the requirements of the input material.

Extremely robust pedestal bearing housings are mounted outside the machine and separate to the cutting chamber to prevent dust and dirt penetrating into the oversized bearings. This ensures a long service life and minimum service and maintenance.

Power is transmitted from the motor by a drive belt via an oversized gearbox which is located on the shaft end on one end of the rotor.

A safety switch prevents machine startup when the front panel is open and the machine features emergency stop buttons on the machine body and control panel.
Pictures of
Single Shaft Shredding Machine
: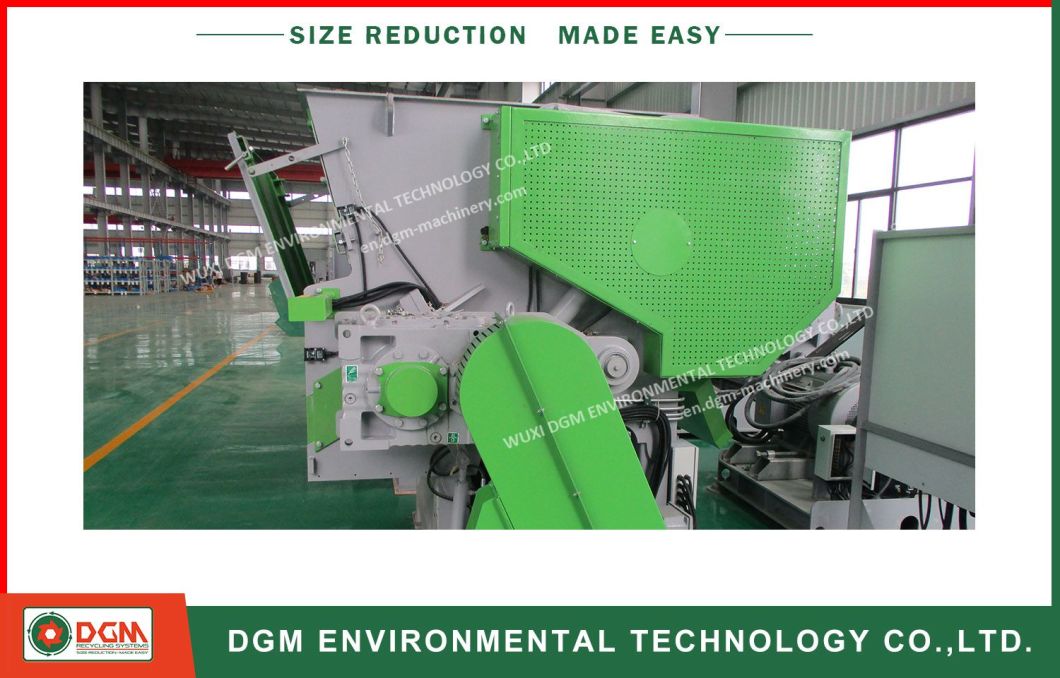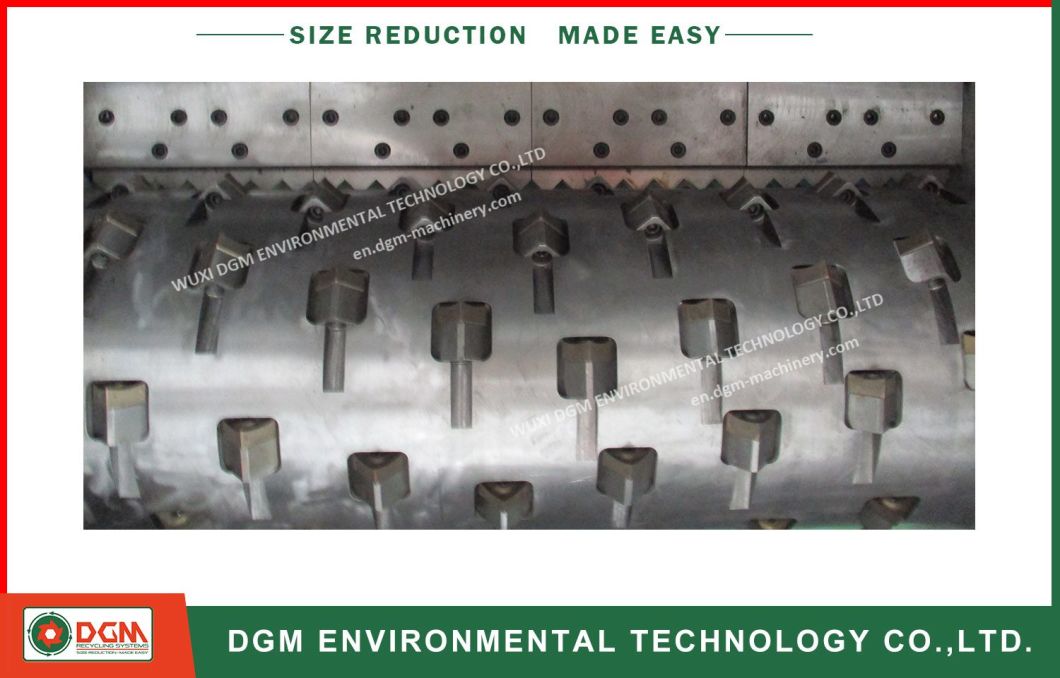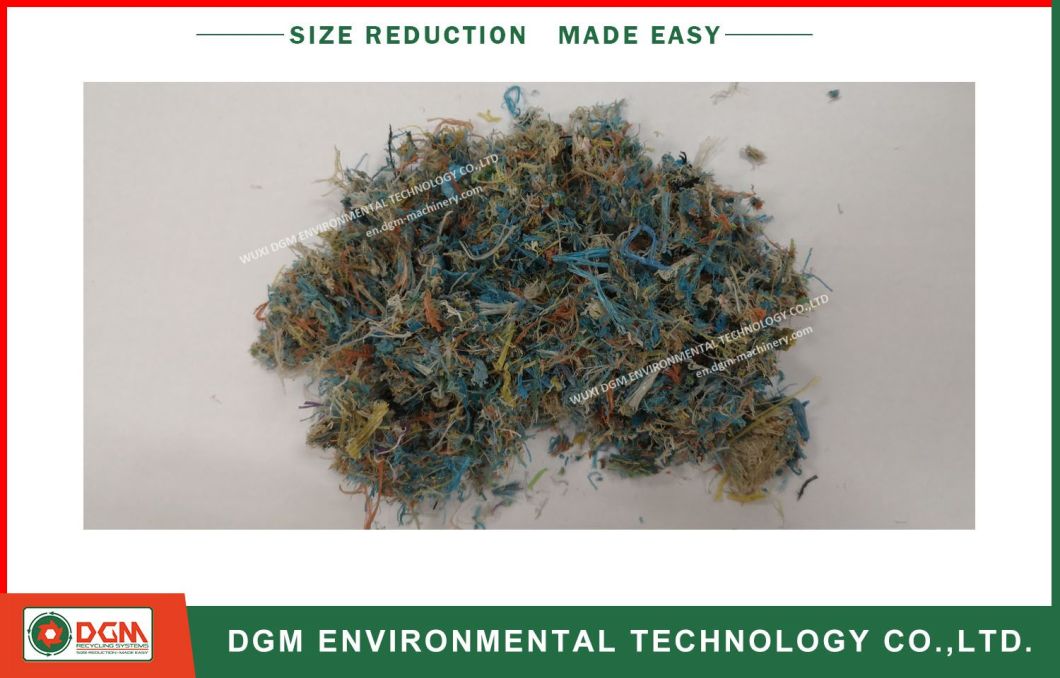 Specification of
Single Shaft Shredding Machine
:
Item

Unit

DGS850

DGS1200

DGS1500

DGS2000

Cutting chamber

mm

840*1570

1120*1570

1400*1570

1960*1570

Rotor Diameter

mm

457

457

457

457

Rotor Speed

rpm

74

74

74

74

Motor Power

kw

37/45/55

55

75

74

Rotor Knives

pcs

60

81

102

144

Stator Knives

pcs

2*3

2*4

2*5

2*7

Hydraulic Ram Power

kw

3.75

5.6

5.6

5.6

Screen Size

mm

40-100

40-100

40-100

40-100

Shredding Chamber Size

mm

800*730

800*1000

800*1290

800*1860

Dimensions

A

mm

2300

2300

2300

2300

B

mm

1650

1650

1650

1650

C

mm

540

540

540

540

D

mm

660

660

660

660

E

mm

2250

2250

2250

2250

F

mm

350

350

350

350

G

mm

2000

2280

2600

3720
Layout for single shaft shredder: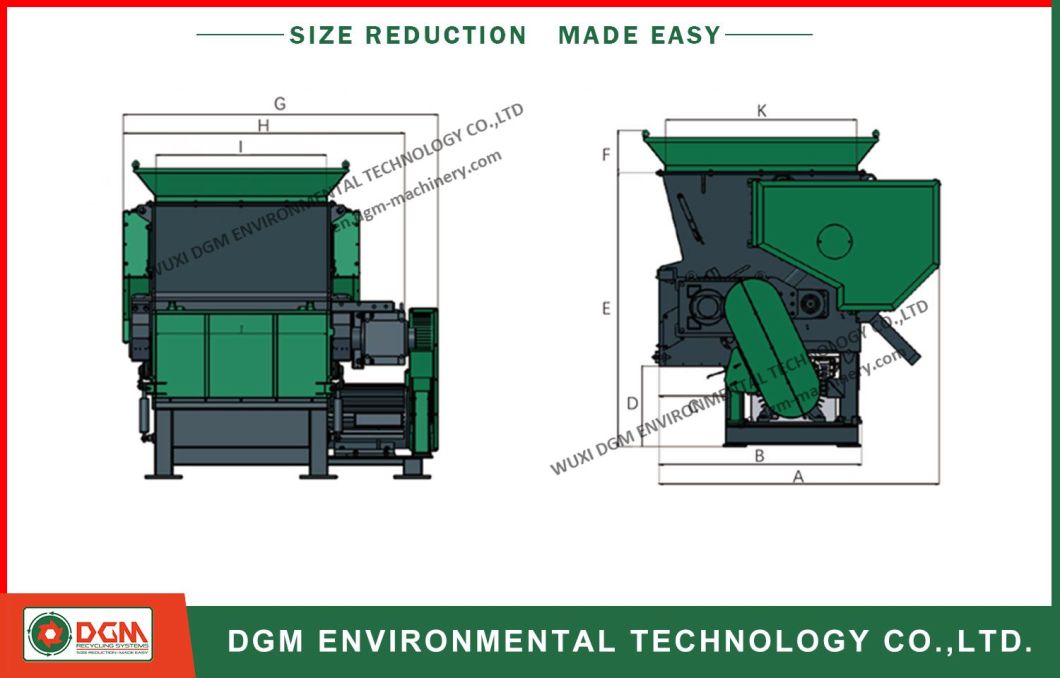 Key features of single shaft shredder
Alternertive options
- Large diameter flat rotor
- Machined pocket knife holders
- Optional hard facing
- Concave ground square knives
- Robust ram construction
- Heavy duty guide bearings
- Universal couplings
- Low speed, high torque geared drive
- Powerful hydraulic swing type ram
- Reduced footprint(compared to horizontal pusher designs)
- Bolt in drive shafts
- Multiple rotor designs
- Two speed hyraulic system
- Oil cooling on ram and gearbox
- Ram comb plate
- Amp meter control
- Hydraulic screen cradle
- Gearbox with shrink disc
- Rotor cooling
- Pipe spacer
- Touch screen PLC
- Hopper mounted viewing mirror
- Increased motor drive
- Hydaulic drive








Cetificates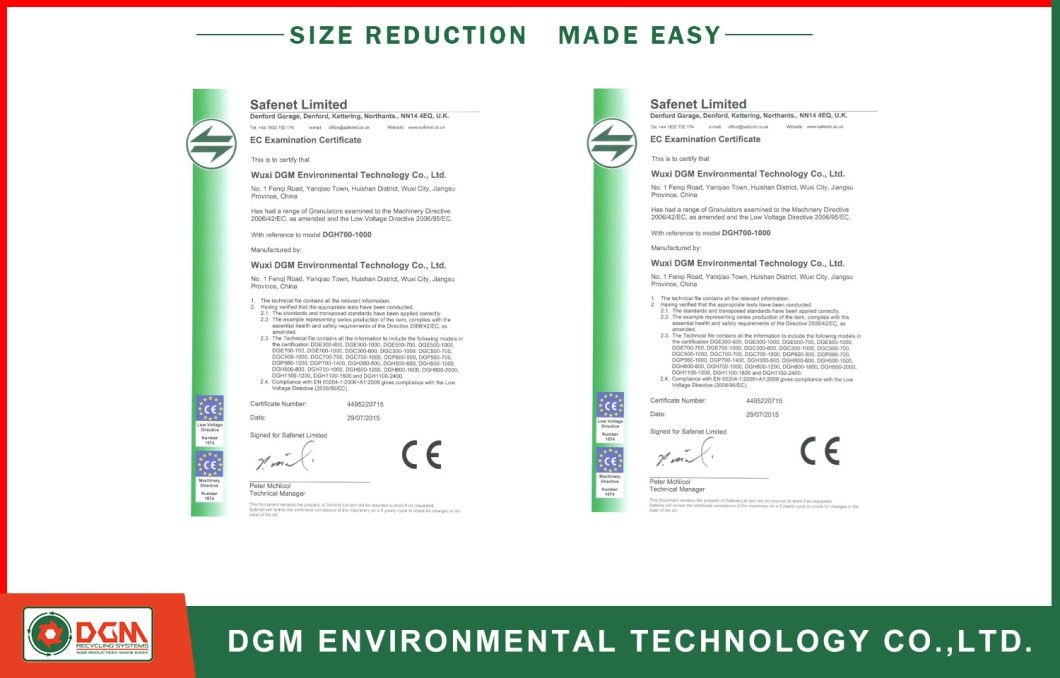 Packing and Shipping
1. Several layers of plastic wrapping film and cardboard to protect single shaft shredding machine from dust and moisture.

2. Plastic packing strap belt to fasten wrapping film and machines, also to fix machines in containers.

3. Wooden case is used as the outside package and spare parts when choosing by LCL, air or international express.

4. Excellent logistic team to guarantee the single shaft shredder to be safely shipped to customers appointed location.

5. If you have any other request for the packaging or loading, we will do our best to meet your demands.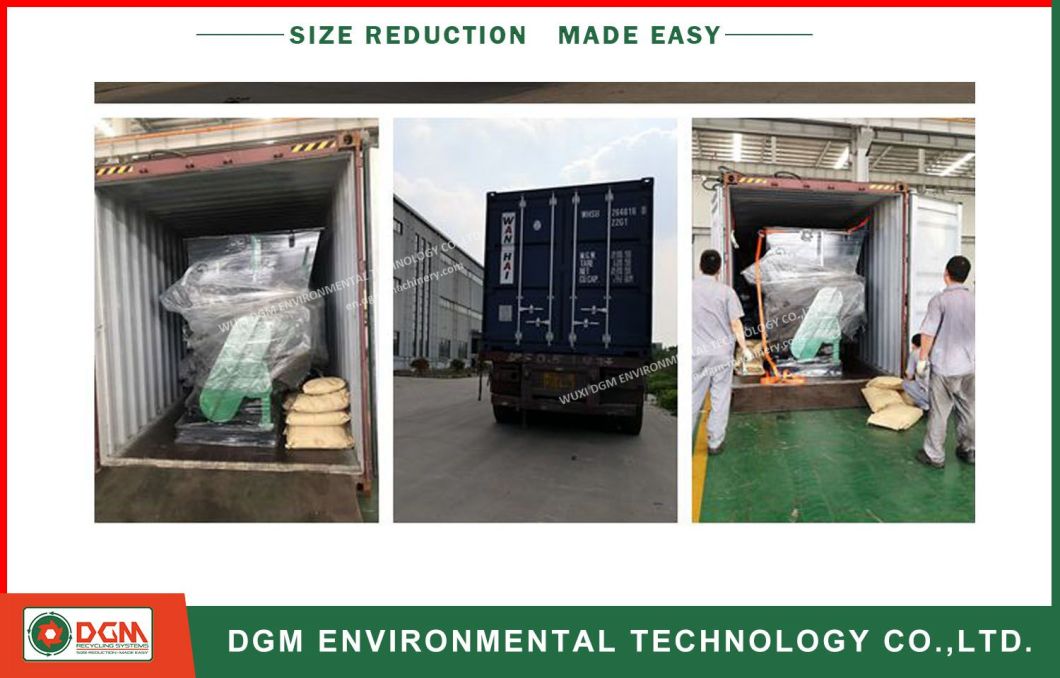 Company Introduction
Since its foundation DGM Recycling Systems have been at the forefront of innovation and technology in the development of cost effective and reliable recycling solutions. As a wholly owned subsidiary of Miracle Automation Engineering Group, a pioneer in automation systems for the automotive and material handling industries, DGM continues to strive for excellence in the field of size reduction and recycling. Utilizing core German design and technology, we have expanded our scope of application to include plastics,timber,rubber,biomass and many other industries where size reduction and materials processing are critical. Our dedication to product development and attention to individual customer needs means we are well equipped to offerr successful business solutions and tailor-made processing plants to our customers.
FAQQ1: Are you a trading company or a factory ?
DGM is a factory with 10 years experience in tire and plastic machinery manufacturing, and 20 years experience in technology.
Q2: Will you provide pre-sale services?
DGM consists of experienced specialists, we will offer a suitable solution according client's requirement in time.
Q3: Is your after-sales service excellent?
At DGM we have a highly trained team of service personnel to handle all manner of customer service enquiries. Whether it is replacement parts, technical assistance, or just general operation advice we offer our customers genuine 24/7 support and after sale service.
We have an international network which ensures wherever you are in the world you receive localized high level support.
Our technical team has decades of experience in the field of size reduction, washing line and tire recycling and we are on hand to offer assistance in installation, commissioning, staff training and general technical assistance.
Q4: Where is your factory?
Address: No.1.Fengqi Road, Huishan District , Wuxi City, Jiangsu Province, China
Q5: What is your contact informatoin?
Fax: +86 510 8357 0210
Telephone: +86 510 8357 2002
Q6: Could we visit your factory and test the machine?
We warmly welcome you to visit our factory anytime,and we are very glad to test our machine with your raw material.
DGM---Qualified supplier to offer you high quality
Single Shaft Shredding Machine
.