Company profile :
Yantai Sunny Rubber Co., Ltd(drafter of rubber filter belt in China) was founded in 2005, located in Songshan Development Zone, Yantai City, Shandong Province. It is a civil company shifted from military technology (Belonging to Nuclear industry system previously). It is a high-tech enterprise engaged in designing, manufacturing and sales of rubber filter belt, rubber conveyor belt, and proposing, installation and service of air bladder support gate(pneumatically operated spillway gate).
Our rubber filter belt, rubber dams, air bladder support gate and other products have already been included in excellent project tender recommendation directory of national Ministry of Water Resources, and passed the technical evaluation of National Water Resources Experts Committee. We provide comprehensive management services such as river channel improvement, flow optimization, water purification, ecological restoration and landscape enhancement, and are widely used in nuclear power security, power station water storage, water conservancy flood control, sediment dredging and etc.
Our product also export to Italy, Thailand, Philippines, South Africa, Argentina etc.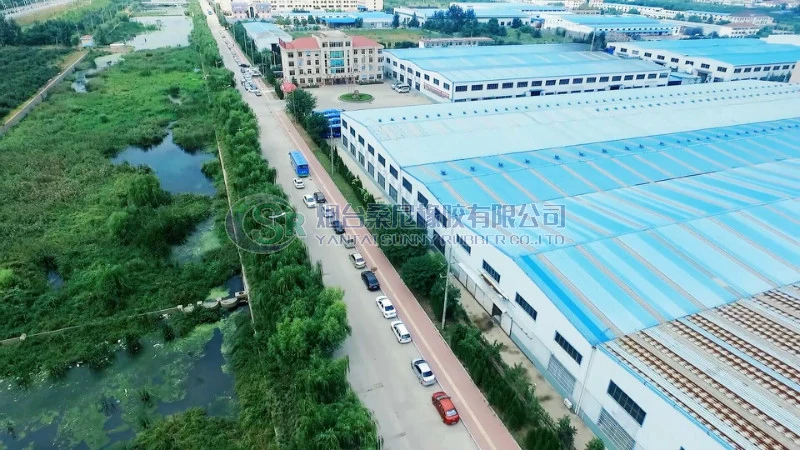 Horizontal Belt Filter Belt is the most important part for horizontal belt filter (HBF), it is also called rubber filter belt, rubber filtration belt or rubber drainage belt. It is made endless by hot vulcanization. Rubber cover material can be variable, SBR, NR and EPDM are commonly used., which can meet requirements of different slurry in different conditions. Carcass normally is 4 plies of EE200 or EP200, then the complete tensile strength can at least reach 800KN/M. Thickness of belt can be from 18 to 45mm, and width is from 300mm to 6000mm(without longitudinal splicing). This makes the belt stronger than splicing belts. Till now, the biggest belt we made is for 168m2 horizontal vacuum belt filter. Sunny Rubber provides rubber belt for vacuum belt filter to different countries like USA, Italy, Austrilia and others.
Technical advantage:
1. Yantai Sunny Rubber Co.,Ltd was founded in 2005, it drafted the national standard for rubber drainage belt. Measurement tolerances, rubber performance features, and other important points are stipulated in this standard.
2. Center zone(holes drilling part) is made without fabric.
3. Runout is very small, so it is easy to be commissioned.