Hot Selling Coal Briquettes Dryer Mesh Belt Dryer with High Quality
Mesh band dryer conveys raw material by steel mesh for drying, and very suitable for flow process. It is widely used in chemical industry, food industry, medicine industry, building materials, electronic industries, especially good at drying material in slice shape, strip particles. It has the advantages of low investment, high drying speed, high evaporation strength, high efficiency, and good quality of product.
Main principle
The principle is as follows: Laid evenly on the mesh belt, driven by the transmission device, the materials move back and forth in the dryer, where hot wind passes through the material and the water vator is discharged from the weep hole, so as to achieve the purpose of drying. The dryer is composed of standard sections; To save space, the dryer can be made in multi layers, and the common strcture includes three layers with two rooms and five layers with two rooms, with 6-40m length and 0.6-3m effective width.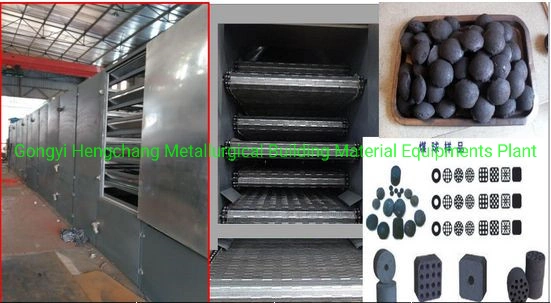 Features:
1 small space to take
2 low investment
3 high efficiency
4 large out put and high evaporation strengh
5 standardized production, the of segments can be increased according to the output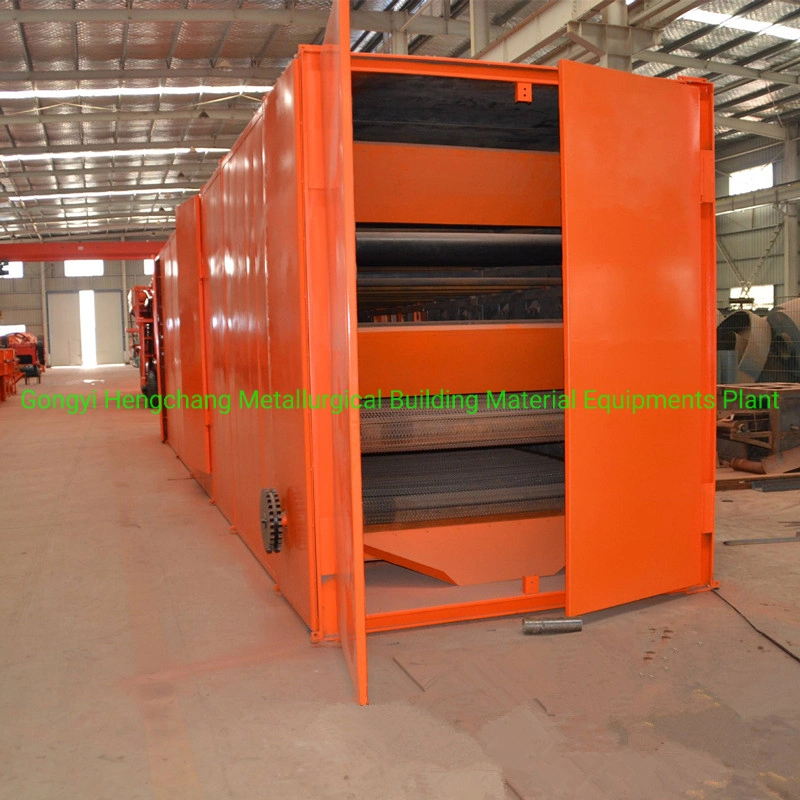 Technical Data:
| | | | | | | | | |
| --- | --- | --- | --- | --- | --- | --- | --- | --- |
| Model | Mesh Width(mm) | Drying Length(m) | Drying Area(m 2 ) | Layer | Layer Distance (mm) | Running Speed(m/min) | Power(Kw) | Capacity(t/h) |
| HJWD6 | 600 | 6-12 | 3.6-36 | 1-5 | 400-600 | 0.06-1 | 1.1-2.2 | 6-10 |
| HJWD8 | 800 | 6-12 | 4.8-48 | 1-5 | 400-600 | 0.06-1 | 1.1-2.2 | 8-15 |
| HJWD10 | 1000 | 6-16 | 6-80 | 1-5 | 400-600 | 0.06-1 | 1.1-2.2 | 10-20 |
| HJWD12 | 1200 | 8-16 | 7.2-96 | 1-5 | 400-600 | 0.06-1 | 1.1-3 | 12-25 |
| HJWD16 | 1600 | 8-22 | 12.8-105 | 1-5 | 400-600 | 0.06-1 | 1.1-3 | 15-30 |
| HJWD20 | 2000 | 10-26 | 20-260 | 1-5 | 400-600 | 0.06-1 | 1.5-4 | 18-35 |
| HJWD24 | 2400 | 12-30 | 29-360 | 1-5 | 400-600 | 0.06-1 | 3-7.5 | 20-40 |
| HJWD30 | 3000 | 12-40 | 36-600 | 1-5 | 400-600 | 0.06-1 | 5-11 | 25-50 |