Description:
This machine is a continuous penetrating flow drying equipment applied for drying pieces strip and particle state materials with good ventilation. The machine is suitable for the materials such as dewatering vegetable, herbal medicine of traditional Chinese medicine, and others, for which the water contents are high and high drying temperature is not high. The machine owns the advantages, of fast drying speed, high evaporation capacity, and good product quality, The de-watered filtered cake state paste material should be made into particles or strips before the drying process.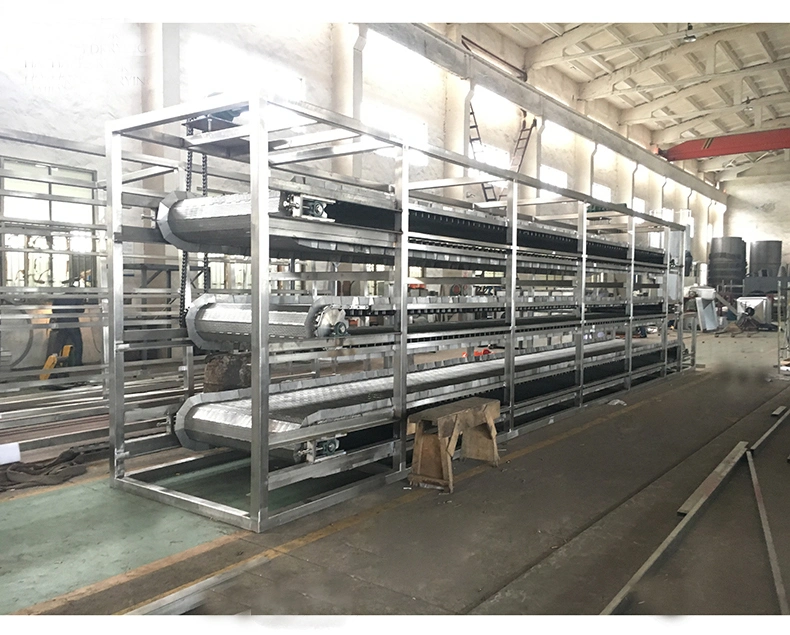 Features of Multilayer Belt Dryer
1. The hot gas flow passes through the mesh belt and the material layer from bottom to top, thus ensuring uniform heat transfer. This drying machine has high production efficiency and good quality.
2. This multilayer conveyor dryer adopts hoisting equipment with uniform feeder, and the thickness of the material layer can be infinitely variable control.
Principle:
The materials are uniformly distributed on the mesh-belt by the material feeder. The mesh-belt generally adopts 12-60 mesh stainless steel mesh and it is drawn by a transmission device and move inside the dryer. The dryer is composed of several sections For each section, the hot air is circulated separately. Part of exhausted gas is exhausted by a special moisture exhaust blower. The waste gas is controlled by an adjustment valve. The hot air passes through the mesh-belt covered with, material from the top to the bottom or from the bottom to the top and this will complete the heat and mass transfer process. This process will bring water away. The mesh-belt moves slowly, running speed can be freely adjusted according to the material property. The final products after the drying process will fall into the material collector continuously.
Models Available:
Model
DW-1.2-8
DW-1.2-10
DW-1.6-8
DW-1.6-10
DW-2-8
DW-2-10
Unit
4
5
4
5
4
5
Belt width m
1.2
1.2
1.6
1.6
2
2
Length of drying section m
8
10
8
10
8
10
Thickness of the material to be covered mm
10~80
Temperature ºC
60~150
Steam pressure Mpa
0.2~0.8
Steam consumption kg/h
120~300
150~375
150~375
170~470
180~500
225~600
Drying time h
0.2~1.2
0.25~1.5
0.2~1.2
0.25~1.5
0.2~1.2
0.25~1.5
Drying efficiency kgH2O/h
60~160
80~220
75~220
95~250
100~260
120~300
Total power of blower KW
8.8
11
12
15
16
20
Total power of equipment KW
10.1
12.3
13.3
16.3
17.3
21.3
Application
DW series multilayer belt dryers are extensively used for dehydrating and drying the sheet type, stripe type and granular materials in the industries of food, agricultural products, dehydrated vegetables, Chinese medicinal materials, seafood, native products, feed, and chemical materials.