multi-layers Belt dryer is used in the material hard to dry and low dry speed. The equipment structure is compact. It covers a small area with easy operation, convenient maintenance, and steady running. The equipment extends and promotes the heat wind circle oven which designs the dryness process with different heat wind circles as per the dryness characteristics of materials. It is widely used in the chemical, metallurgy industry, food, packaging. The dryer has lots of superiorities as high efficiency, saving energy, easy management, larger output, constant product, and varied ability.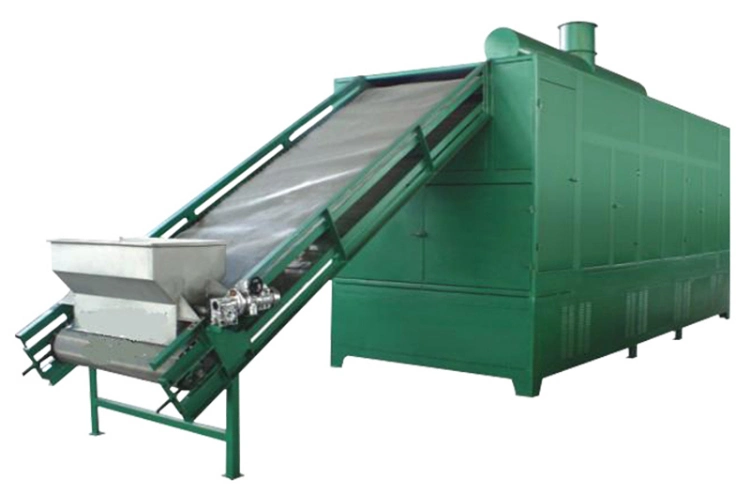 Product Features
1. Dry area, wind pressure, air volume, mesh belt running speed, air amount, heating temperature, time of material sticking on the belt, and velocity of feeding material can be adjusted in order to obtain the best drying effect.
2. The equipment configuration is flexible. It can use the netlike belt washing system and cooling raw material system.
3. Hot air can be circularly applied, the energy is greatly saved.
4. Unique air dividing device, it makes hot air distribute uniformly; this can guarantee products' quality.
5. The series of dryers are characterized by high efficiency and energy-saving and have advanced levels in flow heating, stratified air intake, segmental temperature change drying, and waste heat recovery.
Working Principle



The series of
dryers are processed by using a multi-layer mobile stainless steel mesh belt or vibrating plate. The hot air flows through the mesh belt and the material layer from bottom to top. The heat exchange is uniform, sufficient, and the production efficiency is high. Good, with a cooling layer and rotary conveying device, low discharge temperature, which is convenient for timely packaging. The lifting device with the screed is used, the thickness of the material is uniform, and the thickness of the material layer can be adjusted steplessly. The material area is from 25m² to 70m², with five different sizes, which can meet the needs of various materials and different production scales.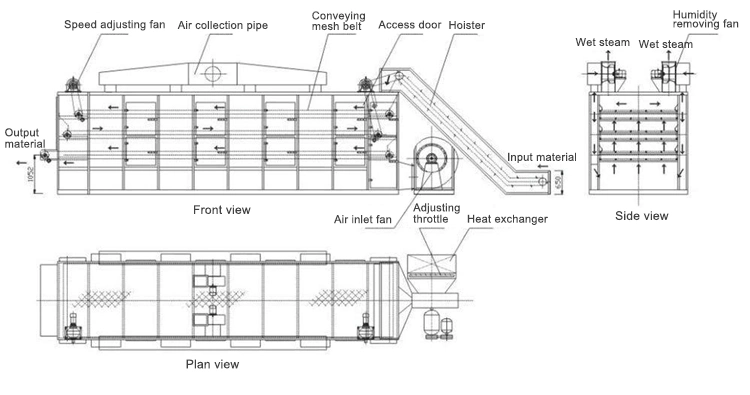 Application Range

Multi-layers Belt dryer is used for mass production of continuous drying equipment for the drying of the sheet, strip pellet material with better ventilation property, especially for the materials cannot bear high temperature such as dehydrated vegetables, Chinese herbal pieces of high moisture content. Belt driers have many advantages, such as a fast-drying rate, high evaporation strength, good product quality; cake type of paste materials, wet granulation can also be dried.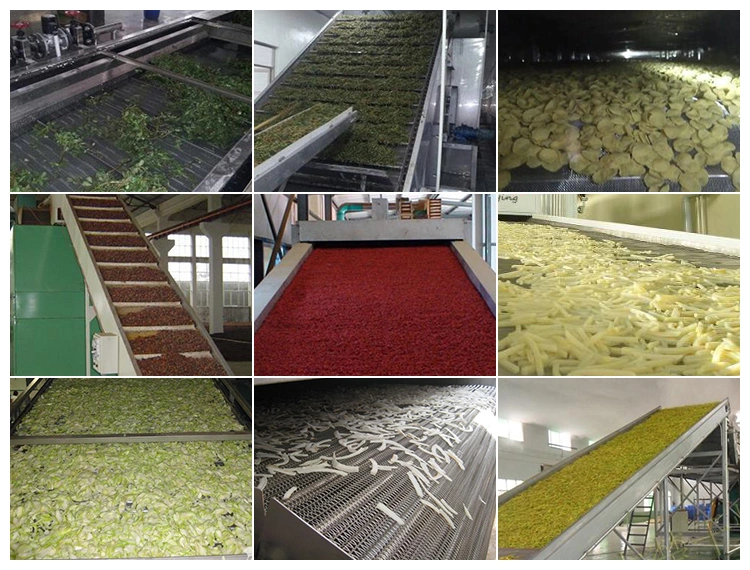 Model
DW3-1.2-8
DW3-1.2-10
DW3-1.6-8
DW3-1.6-10
DW3-2-8
DW3-2-10
Drying Unit
4*3
5*3
4*3
5*3
4*3
5*3
Mesh Belt(m)
1.2
1.6
2
Drying Length(m)
8*3
10*3
8*3
10*3
8*3
10*3
Material Thickness(mm)
10-80
Drying Temperature(ºC)
50-150
Steam Pressure(MPa)
0.2-0.8
Heat exchange area(

m²

)
816
1020
1056
1320
1344
1680
Evaporation Capacity(kg/h20/h)
150-450
240-650
220-600
280-750
300-600
350-850
Number of fans
14
17
14
17
14
17
Power(kw)
30.8
32.6
30.8
32.6
54.2
56
Total Power(kw)
35.3
37.1
35.3
37.1
58.7
60.5
Dimensions(L*W*H)
9.77
11.7
9.77
11.77
9.77
11.77
2.2
2.2
2.6
2.6
3.06
3.06
4.7
4.7
4.7
4.7
4.9
4.9
Weight(kg)
4800*3
5780*3
5400*3
6550*3
6350*3
7800*3
About Us